Welcome to Holloway Construction Company, your trusted partner in commercial land clearing and bush hogging services in Jonesborough, TN. With over 30 years' worth of experience in the industry, our skilled team is dedicated to providing top-notch services that meet your specific needs and exceed your expectations.
At Holloway Construction Company, we understand the importance of a well-prepared and cleared land for your commercial projects. So whether you're embarking on a new construction project, expanding your business space, or revitalizing your existing property, our comprehensive commercial land clearing services are tailored to get the job done efficiently and effectively.
Commercial Land Clearing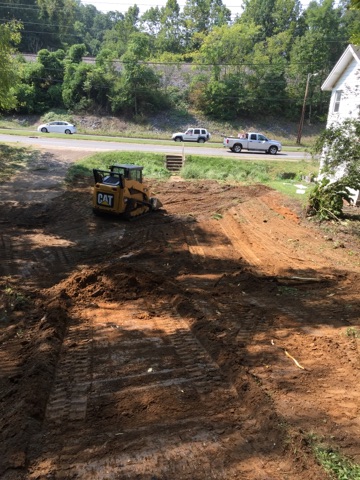 When it comes to commercial land clearing, our expertise are unsurpassed, and we offer a wide range of services, including site preparation, lot clearing, grading, and excavation. Whether you need to clear a small lot or a vast expanse of land, our experienced team has the knowledge and equipment to handle projects of all sizes with precision and attention to detail.
Our dedicated professionals are also well-versed in the latest techniques and use state-of-the-art machinery to ensure that the land clearing process is completed swiftly and effectively. From removing trees and shrubs to clearing away debris and stumps, we have the expertise and equipment necessary to clear your land efficiently, allowing you to move forward with your commercial plans.
Commercial Bush Hogging
Maintaining your commercial property's landscape is crucial for its overall appeal and functionality. Luckily, our expert commercial bush hogging services ensure that all of the grass and vegetation on your property is neatly trimmed and under control.
Using high-quality bush hogging equipment, we can efficiently mow large areas of land, including pastureland and fields, all while maintaining safety and precision. Our skilled operators are also experienced in navigating various terrains and obstacles, ensuring your property is evenly cut and free of unsightly overgrowth.
Why Choose Holloway Construction Company?
At Holloway Construction Company, we take pride in our commitment to excellence, attention to detail, and dedication to customer satisfaction. Here's why you should choose us as your commercial land clearing and bush hogging partner:
Experience and Expertise:
With over a decade of experience in the industry, our team has the knowledge and expertise to tackle even the most complex commercial land clearing projects.
State-of-the-Art Equipment:
We utilize the latest machinery and industry-leading equipment to ensure that our services are both efficient and precise.
Skilled Professionals:
Our team consists of highly skilled professionals who are trained in the latest techniques and safety standards, ensuring that your project is handled with the utmost care and professionalism.
Customized Solutions:
We understand that each project is unique, which is why we provide customized solutions tailored to your specific requirements. From site preparation to bush hogging, we offer a comprehensive range of services to meet your needs.
Timely and Reliable Service:
We always strive to complete all projects on time and within budget, ensuring minimal disruption to your commercial plans.
Contact Holloway Construction Company Today!
When it comes to commercial land clearing and bush hogging in Jonesborough, TN, you can trust the experts at Holloway Construction Company. Our dedicated team is always ready to assist you with all your commercial land clearing needs, so contact us today for a consultation and let us help you turn your commercial land into a blank canvas ready for your next project!