Welcome to Holloway Construction Company, your trusted partner for all your residential land clearing needs in Jonesborough, TN. With more than years' worth of experience in the industry, we take pride in providing top-notch services that transform your property into a beautiful and functional space. Our team of professionals are always committed to delivering unmatched quality and unmatched customer satisfaction with each and every project they take on.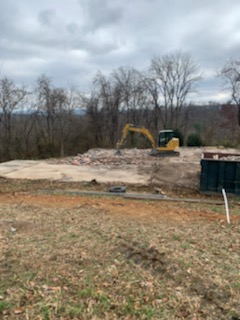 Residential Land Clearing:
Creating a Blank Canvas for Your Dreams
At Holloway Construction Company, we understand that every residential project starts with a blank canvas. Whether you are planning to build your dream home, create a stunning landscape, or design an outdoor recreational space, proper land clearing is the first step towards success. That's why our residential land clearing services are designed to create a blank canvas that aligns with your vision and sets the stage for the construction or development process.
Why Choose Us for Your Residential Land Clearing Needs?
Expertise and Experience:
Our team of skilled professionals have extensive expertise in residential land clearing, and we've successfully completed numerous projects with incredibly unique challenges and requirements. And with our experience, we can confidently tackle any obstacle that comes our way, ensuring a seamless and efficient land clearing process.
Cutting-Edge Equipment:
To deliver exceptional results, we invest in the latest and most advanced equipment possible. Our state-of-the-art machinery, including specialized bush hogging equipment, allows us to clear your residential land quickly and efficiently. So whether you have overgrown vegetation, large shrubs, or tough weeds, we have the tools to handle it all.
Safety and Compliance:
Safety is our top priority, which is why our team strictly adheres to industry regulations and safety protocols, ensuring a secure working environment for everyone involved. We also always take the necessary precautions to prevent any accidents or damage during the land clearing process. So you can have peace of mind knowing that your property and our team are in safe hands.
Tailored Solutions:
Every residential land clearing project is unique and requires a custom approach. That's why we take the time to understand your specific needs and goals, allowing us to provide tailored solutions that match your vision. So whether you need selective clearing, lot preparation, or comprehensive land clearing services, we have the expertise and flexibility to deliver exactly what you need.
Our Residential Land Clearing Services
Bush Hogging:
Whether you have an overgrown field or obstructed land, our bush hogging services are designed to clear vegetation, shrubs, and small trees with the utmost precision and efficiency. Our specialized equipment ensures that even the stubbornest of vegetation is cleared flush to the ground, providing a clean and even surface.
Selective Clearing:
Our selective clearing service allows you to remove specific trees, shrubs, or vegetation while preserving the ones you want to keep. And with our expertise, we can strategically remove unwanted elements and create a space that retains the natural beauty of your land.
Lot Preparation:
If you're planning to build or develop your residential property, our lot preparation service ensures that your land is leveled and well-prepared. From removing debris and obstacles to grading and leveling the terrain, we ensure that your land is ready for the next phase of your project.
Trust Holloway Construction Company for Your Residential Land Clearing Needs
With Holloway Construction Company, you can expect reliable, professional, and efficient residential land clearing services each and every time. As a family-owned business, we take pride in our commitment to quality craftsmanship and exceptional customer service, and we treat each and every project as if it were our own, ensuring attention to detail and exceeding your expectations.
So contact us today to discuss your residential land clearing needs in Jonesborough, TN, and let's work together to transform your vision into reality, one cleared lot at a time.